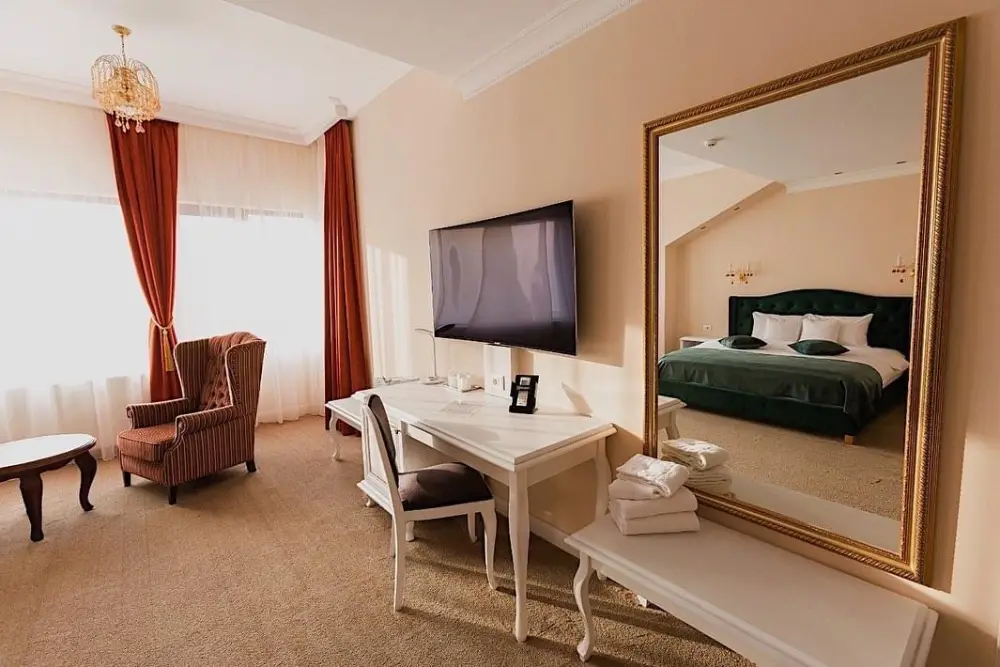 4Cardinal's is a premium location, inaugurated in November 2014, in a building with personality, fully renovated preserving the style, elegance and sophistication.
4Cardinal's offers accommodation in 15 spacious and comfortable rooms, personalized by furniture, accessories and decorations, an intimate lounge for serving a delicious breakfast, a video surveillance parking for 9 cars in the courtyard, reception and high speed wifi internet.
4Cardinal's addresses both to guests who are in Brasov on business, and those seeking a few days of relaxation, giving them privacy, comfort, style and personality.
Make your stay memorable!
A real gem in Brasov. The room was big and spacious and decorated with taste. It's a quiet settlement in a quiet area but in the same time very near to public transportation. We had excellent breakfast, which varied from one day to another. The people here were very nice and attentive, from the receptionists to the kitchen personnel. So thank you for a pleasant stay.
We were there to visit Bran Castle. arrived in time. as the hotel owner wrote we asked taxi to take to hotel. taxi drivers are bad. instead 5 lei they wanted 20 lei. so we called hotel owner took us. the hotel is situated not so far from old brasov. we walked by foot. it's also near station. the Hotel and the room was very good. clean and very nice, the staff very friendly. breakfast perfect. I advice everyone to stay in 4 cardinals
Very impressed with the place...great room and bathroom...very clean..good service. Just breakfast on spot but there are good restaurants nearby in a walking distance. Overall I had a great experience..I will definitely go back...
Nice hotel, rooms. Convenient location, near shopping centers where we shopped in the morning. A very nutritious breakfast. The only thing is there are no toiletries in the bathroom. Like slippers to change shoes (I'm Russian, I'm changing my shoes inside, lol), cotton pads to wash off makeup and so on. However, there was a coffee machine with coffee for one-time use. It was great for one night!